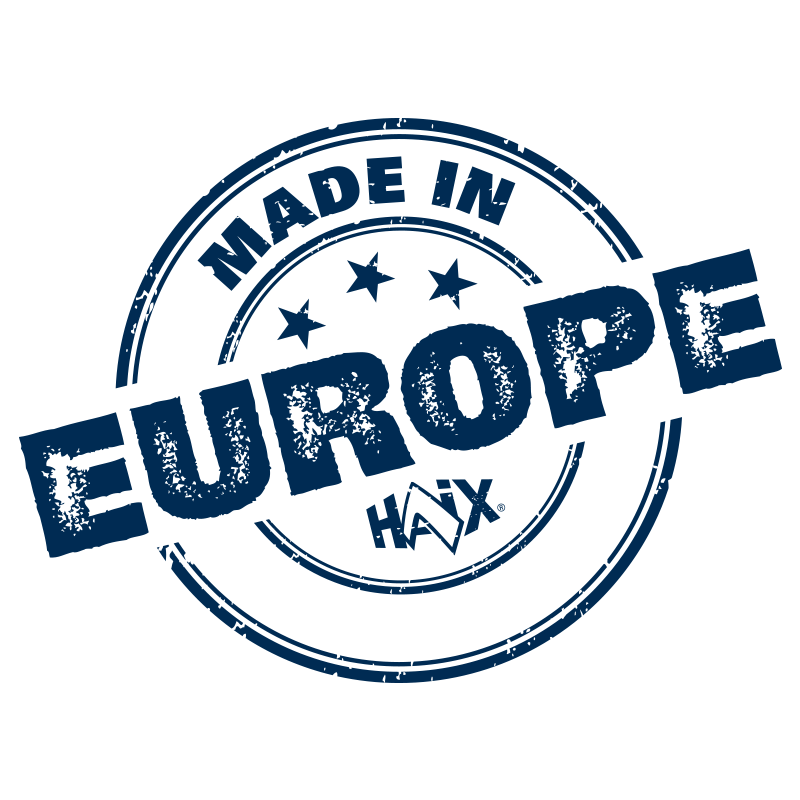 MADE IN EUROPE – GUARANTEED!
HAIX is an innovative and high-tech manufacturer that meets the highest standards of functionality, quality and design while also providing good value for your money. Our customers entrust us with their everyday safety, both during their work and leisure time and round the clock if need be. Our objective is nothing less than to offer our loyal fans the best shoes in the world! About 1,700 committed members of staff all over the world help us to achieve this goal. Production takes place at state-of-the-art manufacturing plants located only in Europe. 1,400,000 pairs of shoes
are supplied to our customers worldwide each year
10,000 pairs of shoes
can be manufactured for our customers every day
1,700 employees
work to ensure the very best levels of quality and availability on a daily basis.
70 trainees and interns
support and enrich our team
5 international branches
and licence partners ensure customer proximity
For nearly 30 years, HAIX footwear has been serving the needs of the fire service. Incorporating sophisticated cutting-edge technology, you can rely on HAIX Fire boots for protection from extreme heat, chemicals, bacteria, and more. Meeting or exceeding the NFPA standards in their respective categories, HAIX boots will stand the test of time.
HAIX EMS and Station footwear is one of the most popular choices for First Responders. Through years of improving and optimizing the products to perfection, HAIX EMS and Station footwear is specifically tailored to meet the needs of First Responders. Whether in the station or out in the field, HAIX footwear offers the ultimate in foot protection.
One of the most important investments a law enforcement officer can make is in their boots, because pain and discomfort in your feet can distract you from the job at hand. Uneven terrain, oily streets, adverse weather conditions… you're on your feet all day, running or climbing fences in pursuit of a suspect, and you need footwear that will give you the support and traction you need to take off without hesitation or stop on a dime. Extensive research and development goes into every boot to ensure HAIX Law Enforcement boots will meet your needs.
The statistics prove it: working with a chainsaw is one of the most dangerous endeavors out there. HAIX Forestry boots not only offer rugged durability along with all day comfort, but protection from injury as well. HAIX provides cut protection from the hobbyist to the professional. Please note that cut resistant footwear is not a substitute for good safety procedures, and care must always be taken when operating a chainsaw.
HAIX Safety boots offer rugged durability and all day comfort. With Kevlar® cut protection, steel toe protection, and waterproof GORE-TEX®, these boots will get you through even the toughest work. UL certified for Electrical Hazard resistance (EH) to ASTM F2413 latest editions, which includes toe cap impact and compression resistance as well as puncture resistance.
Light, functional, comfortable: HAIX Military boots are universally ready-to-use functional shoes for service members the whole year. With excellent anatomical fit and integrated joint protection, they are ideal for any terrain. The breathable, waterproof GORE-TEX® membrane ensures a high degree of climate comfort. Despite special demands on safety, our lace-up boots for the military are extremely light.